Beautiful Castle Wedding Cakes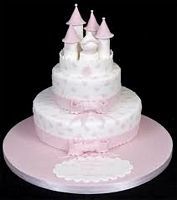 If there is one thing both bride and groom desire on their wedding day, it is to be treated as royal center of attractions just for that one day. It is not an unreasonable wish. After all, their wedding is supposed to be their day. This could translate into larger than life themes for the wedding, including a castle wedding cake. In this blog, we look at the most basic way of preparing a castle for a wedding cake out of edible substances.
Building Castle Wedding Cakes
For the main castle structure
Take two cakes prepared in deep dishes and place them one on top of the other. This will be the main body of your castle building, albeit a very preliminary and basic version of it.
For the windows and doorways, you will have oval moulds which need to be pressed against the walls of the cakes.
The coloring of the fondant needs to be prepared taking into consideration the color coding of the wedding and so on and so forth.
For the castle turrets
You could prepare the inner structure of the castle by cutting a paper towel tube (will form the skeletal foundation) and applying fondant all over it. You could wrap plastic sheets all over the paper tube so that it does not collapse under the weight of all the fondant.
For the coned castle rooftops
You may take miniature ice cream cones and stick them on top of the fondant turrets/ tubes and later cover them in a reddish or blue colored fondant.
For extraneous castle wall decorations
You could take an icing piping bag and start drawing a floral trellis, with vines and rosebuds and wedding cake designs of your choice.
Lords and Ladies of the castle
You could utilize marzipan and gingerbread to prepare fairytale princes, princesses, horses, and knights. Prop them up on the multiple tiers by inserting their feet a little into the cake surface.
And with that we have come to the end of our brief guide on castle wedding cakes. If you want to take a trip down to a land far, far away, then the castle theme is the way to go when it comes to your wedding cake.